News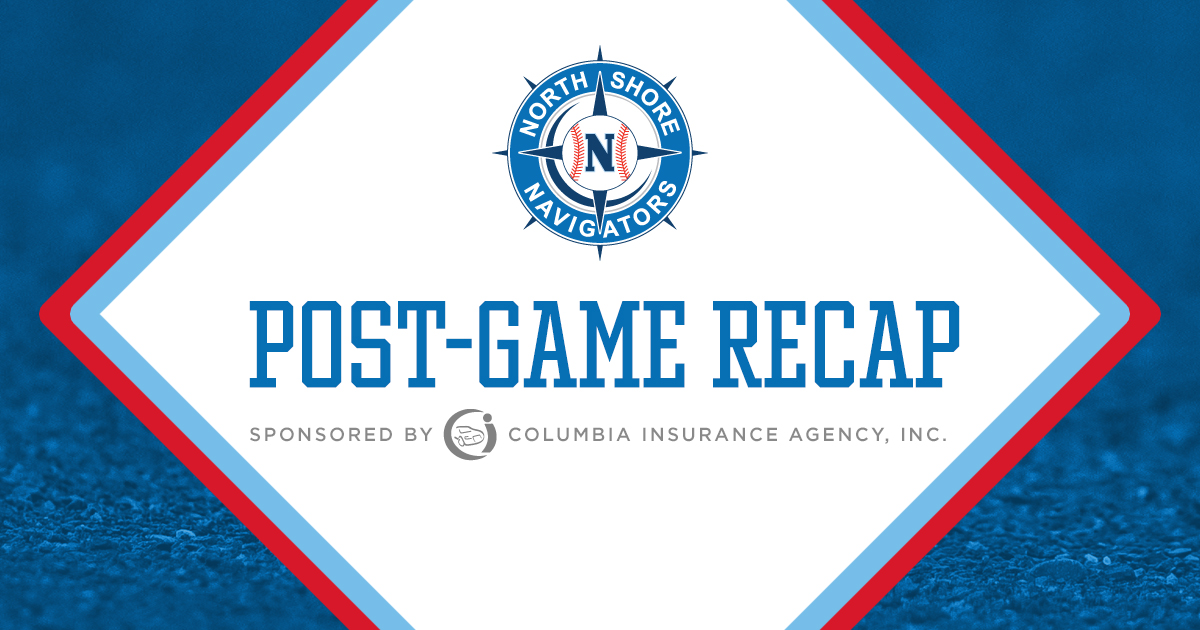 05/30/2019 8:25 PM
By Joshua Kummins
BROCKTON, Mass. -- The North Shore Navigators earned their first season-opening win in the Futures Collegiate Baseball League since 2013, scoring twice in the eighth inning to upend the Brockton Rox, 9-8, Thursday at Campanelli Stadium.
A pair of locals stood out at the plate as shortstop Andrew Olszak (Southern Maine) and third baseman Tyler MacGregor (Columbia) combined for five hits, helping the Navs reach double-digits in that category. On the flip side, Brockton now stands at 1-1 on the young FCBL season.
The Danvers native, Olszak went 3-for-6 with two runs scored and two RBI, including his first home run as a Navigator. A former St. John's Prep standout and Peabody native, MacGregor went 2-for-3 and walked twice, reaching base four times in total in his North Shore debut.
North Shore used five different pitchers in the game with Hunter Wilichoski (Northern Essex CC) earning the win and Beau Dana (Dickinson) striking out the side for a save. In addition, Bobby Cliche (Maine) struck out three over three innings in relief.
The Rox followed up a scoreless first inning with two in the second as catcher Joe Sullivan (Lasell) hit a single to center field that preceded an error in center field.
In the third, North Shore responded with its first run of the summer in the form of Olszak's solo home run to right field, but the hosts sent eight batters to the plate and scored four runs in their half of the frame. Designated hitter Mitch Donofrio (Eckerd) hit a two-run home run to left field to punctuate Brockton's big inning.
The Navs chased Rox starter Paul Prue (Wheaton) from the game during a six-run, three-hit fourth inning. The lefty finished his debut outing allowing eight hits and six runs through the first three frames.
Right fielder Colin Macko (UNC Asheville) led off North Shore's fourth frame with a single before MacGregor and catcher Nolan Watson (Dayton) walked. Olszak logged his third hit with a run-scoring infield single and scored himself on center fielder Ben Malgeri's (Holy Cross) two-run double to center.
Brockton scored a go-ahead run against Wilichoski in the fifth. Third baseman JP Knight (Tufts) led off the frame with a single and scored on a wild pitch after left fielder Cam Thompson (Oklahoma State) doubled and a pair of Rox walked.
Wilichoski settled in after the fifth and finished four full frames without allowing another run. The Hamilton-Wenham product allowed three hits and struck out two.
The Navs scored their game-winning runs in unusual fashion in the top of the eighth. After second baseman Dominic Freeberger (UNC Asheville) and designated hitter Louis Olivieri (Central Alabama CC) walked, a wild pitch and an error with MacGregor at the plate allowed both to score.
First baseman Gabe Giosso's (St. Mary's, Calif.) two-out double in the eighth allowed Brockton to climb within a run, but the Marblehead native Dana threw just one ball while facing the minimum in the final frame to record the save.
Donofrio, Giosso, and Knight all had multiple hits for the Rox, while Tom Kretzler (Brockport) threw four innings of relief without allowing an earned run and struck out five.
The Navs return to action Friday night with their second straight road game at Worcester. First pitch from Hanover Insurance Park at Fitton Field is set for 6:35 p.m.