News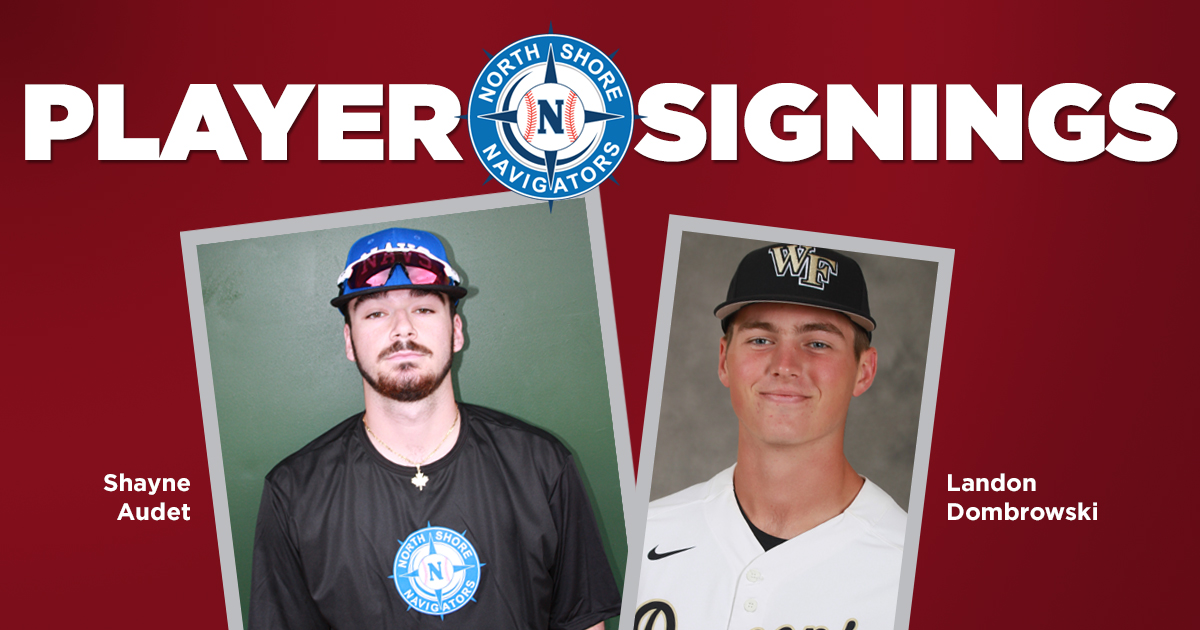 05/28/2019 11:01 AM
LYNN, Mass. -- The North Shore Navigators pitching staff got a late boost just days before the start of a new Futures Collegiate Baseball League season as Director of Player Procurement Joe Gill announced the return of New England College ace Shayne Audet for his second summer with the team.
In addition to signing Audet as the team's fourth returning player, Gill also welcomed Wake Forest catcher Landon Dombrowski. The Chestnut Hill product is the son of Dave Dombrowski, the Boston Red Sox President of Baseball Operations.
"We're so excited to have Shayne and Landon joining us this summer," said Gill. "Shayne is coming off one of the best pitching seasons in Navs history and had an incredible strikeout rate again this spring. His Futures League success will help our team a great deal and we know that he and the rest of the staff will enjoy throwing to Landon who works with high-level pitchers and brings great baseball pedigree."
Audet missed the second half of his college team's New England Collegiate Conference championship and Super Regional run this spring due to injury after serving as North Shore's ace last summer. The Springfield native went 4-2 with a 2.23 ERA and led the league with 56 strikeouts in 44.1 innings. He followed up that effort with a 4-1 record and 2.48 ERA in nine starts as a sophomore for the Pilgrims.
Following his last appearance on April 19, the All-NECC First Team member led all of Division 3 baseball in strikeouts per nine innings (17.1) as he had fanned 76 batters in just 40 frames. His strikeout total last summer was the second-highest in Navs history.
After earning All-Interscholastic School League Honorable Mention honors at St. Sebastian's School last spring, Dombrowski headed down to Wake Forest and served as the Atlantic Coast Conference club's bullpen catcher as a freshman. He will return to game action as a Navigator this summer after concluding his high school career with back-to-back league titles.
The Navs kick off their 2019 season this Thursday, May 30 at Brockton. Following back-to-back games on the road, the team's Fraser Field debut is set for Saturday, June 1 at 6 p.m. against the Nashua Silver Knights.