Front Office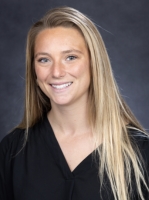 MAGGIE BARDEN
VICE PRESIDENT OF OPERATIONS
E-mail:
Maggie joined the North Shore Navigators in the Spring of 2020 as the Director of Interns and quickly became a key member of the staff, preparing the Navigators and Fraser Field for the inaugural season under the ownership of the January Family. She was named Assistant General Manager at the end of the 2020 season, and General Manager of Game Day Operations during the 2021 season. In 2023, the Navs hosted the 2023 NECBL All-Star Game which was a 'home run' under the direction of Maggie, Ed Power and their incredible intern staff!
Barden is a graduate of Springfield College with a degree in Sports Management. She is currently completing a Master's in Higher Education and a Graduate Certificate in Sports Administration at Providence College. She is also a Graduate Assistant at PC working in Student-Athlete Mental Health and Wellness. Maggie recently accepted a position at Bryant University as Student-Athlete Academic Advisor for Women's Basketball, Men's Lacrosse, Men and Women's Track and Field, Men and Women's Cross Country, Women's Soccer, and Women's Golf.
A native of Swampscott, Barden is an avid athlete, and when not working, can be found playing football, kicking the soccer ball, out on training runs or in the gym. Maggie is a member of the Boston Renegades, the premier women's tackle football team in New England and the defending Pro Division Champions of the Women's Football Alliance (WFA). They won their fifth consecutive National Championship in July 2023.