Front Office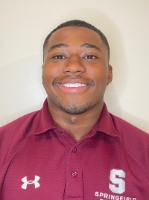 ISAIAH CASHWELL-DOE
DIRECTOR OF INTERNS
Isaiah Cashwell-Doe is a new member of the North Shore Navigators staff as the Director of Interns. His duties consist of assisting in the hiring and training process of interns and monitoring their work, as well helping with game-day operations.
Since graduating from Woburn High School in 2018, Cashwell-Doe has been attending Springfield College and is currently a junior pursuing a degree in Psychology and a minor in Business Management. He has developed an influential voice on campus through being a member of the football team, a member of the Student Athlete Leadership Team, a Campus Ambassador, and Vice President of the mental health club, "Minds in Motion."
As a new addition to the North Shore Navigators, Cashwell-Doe is excited to be a part of the team and is hopeful for a great season.