News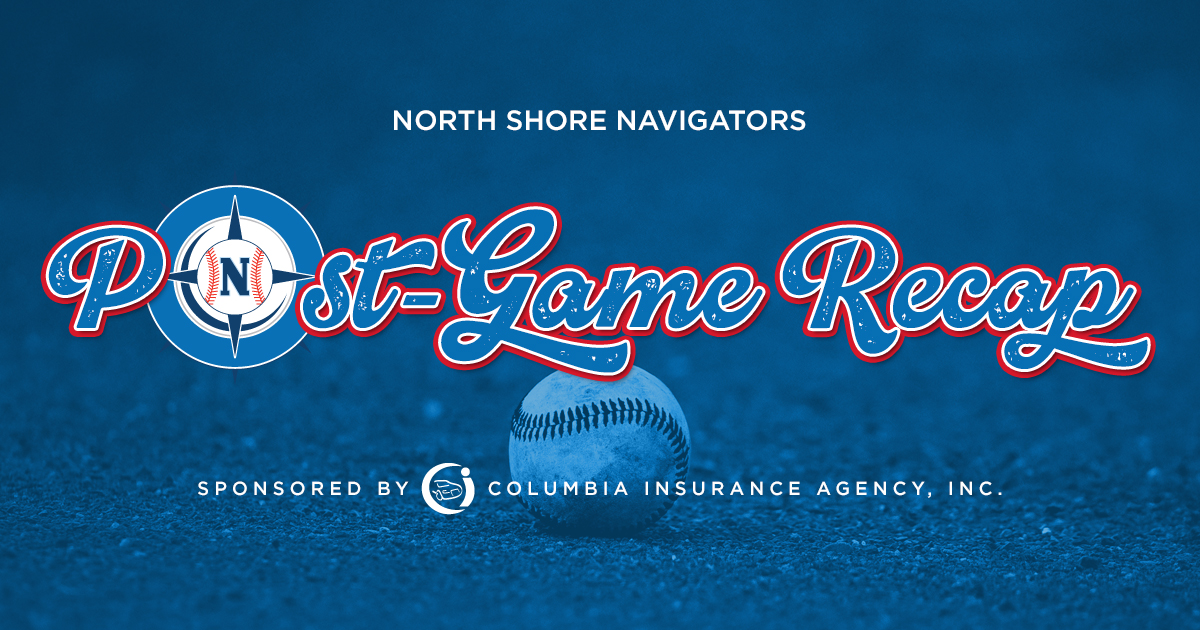 06/22/2018 7:52 PM
By Joshua Kummins
LYNN, Mass. -- The North Shore Navigators saw their two-game winning streak come to an end Friday night as the visiting Nashua Silver Knights scored early and often, logging four multiple-run innings and crossing the plate in five en route to a 14-3 win in Futures Collegiate Baseball League action at Fraser Field.
North Shore slips to 6-14 after winning back-to-back games for the first time this summer Wednesday against first-place Martha's Vineyard and Thursday against Worcester. Nashua improved to 7-12 with its second win in three games and fourth in six games against its most frequent opponent this season.
The Navs recorded just six hits in the ballgame. Third baseman Sal Frelick (Boston College) got the offense going with a fourth-inning home run, but Nashua's 14-hit attack was too much to overcome. Catcher Joe Caparis (Pepperdine) went 3-for-5 with four RBI to lead the Silver Knights, while left fielder Jeff Costello (Northeastern) scored four runs.
The visitors tagged Navs starter Travis Lane (Boston College) for five runs in the second inning and three more in the third on seven combined hits. The rising Eagle freshman walked three and struck out one over three innings and was dealt his first loss of the summer.
Costello opened the scoring with a solo home run to left field before five of the next six Silver Knights reached base safely. Third baseman Tom Blandini (SNHU) punctuated the frame with a triple to the right-center field wall, while Caparis and designated hitter Nick Biddison (Virginia Tech) each singled home runs.
Nashua scored a trio of two-out runs on two hits in the third as right fielder Andrew Gorham (Tulane) and Caparis each doubled. Caparis brought home two more runs with his second hit in as many innings.
Frelick led off the fourth inning with his and the team's second home run of the season. The deep fly to right field extended Frelick's team-leading RBI count to 11 and his hit streak to seven games since joining the Navs following his graduation from Lexington High School.
The visitors responded with three more runs in the fifth and one in the sixth. Navs reliever Danny Ryan (Northeastern) allowed a leadoff home run to first baseman Jake Lebel (NYIT) in the fifth before Gorham lited a sacrifice fly to center and second baseman Tyler Littlefield (Houston) knocked an RBI double.
Ryan pitched two innings out of the North Shore bullpen before Matt Demma (Saint Joseph's of Maine) logged the last four, two of which were scoreless. Demma struck out batters in each of his last three innings and worked longer than any Navs reliever since June 12.
North Shore scored twice in the eighth. Shortstop Andrew Olszak (Southern Maine) reached on an error and catcher John Prentice (New England College) singled with one out, setting up left fielder Jeff Mejia (UMass Lowell) for an RBI single. Mejia then advanced to second and Prentice scored on a fielding error.
The Silver Knights concluded the scoring in their last at-bats as Caparis hit a two-run single just inside the right field line. The 14-run outburst was Nashua's second in three days.
Spencer Langdon (Tufts) pitched three perfect innings in relief of Spencer Bergeron (UMass) to earn the win for the Silver Knights. Bergeron allowed one run on three hits and two walks over the first four frames. Despite the loss, the Navs did not strike out once in the game.
The Navs have Saturday off before playing back-to-back games at Historic Holman Stadium against Nashua. Sunday's first pitch is slated for 5:05 p.m. North Shore returns to Fraser Field for a Tuesday doubleheader against Pittsfield that is set to begin at 4 p.m.