News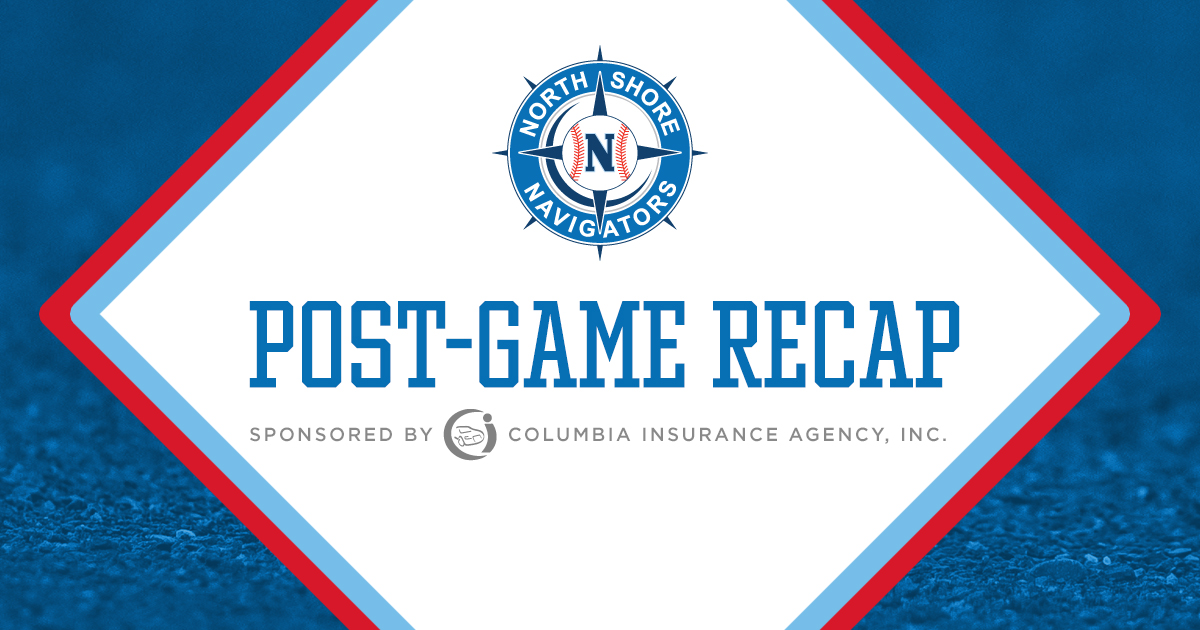 07/01/2018 7:07 PM
By Joshua Kummins
LYNN, Mass. -- The North Shore Navigators out-hit its opponent for the 12th time this season and scored five unanswered runs to close Sunday's Futures Collegiate Baseball League contest, but the Brockton Rox put up all of their offense with three crooked numbers to turn in an 11-7 win at Fraser FIeld.
North Shore slipped to 8-18 with its third consecutive loss, while Brockton improved to 15-12 with its third win in four games and sixth this season against the Navs.
Shortstop Sal Frelick (Boston College) went 3-for-5 with two runs scored and a three-run home run in the sixth inning to lead North Shore's 10-hit attack. Third baseman Elias Varinos (Tufts) added two hits and an RBI.
The Navs took a 1-0 lead in the first inning as second baseman Joey Murphy (Saint Joseph's of Maine) beat out a one-out infield single and scored on catcher Dominic Keegan's (Vanderbilt) triple to center field. Keegan has four hits in his last three games since joining the team from Central Catholic High School earlier in the week.
Zach LeBlanc (Fisher) issued two walks with one out in the second inning of his Navs debut before right fielder Jared Sharkey (Wheaton) hit a three-run home run out to left to give Brockton its first lead of the game at 3-1. LeBlanc allowed seven runs on four hits and four walks over 3.1 innings and was handed the loss.
The Rox sent 10 batters to the plate and scored four more runs in a fourth inning punctuated by catcher Jack Kelly's (Northwestern) RBI single. Kelly went 2-for-4 with three RBI to help lead Brockton's offense, while Sharkey scored three times.
Three of the first four North Shore batters to bat in the fourth reached base, and Varinos brought the home team one run closer with a single to left. Keegan drew a leadoff walk to start the offense in the two-hit frame.
The fifth inning was identical to the fourth as Brockton scored four times before the Navs countered with a run. Kelly added a two-run double to follow up center fielder Matt Johnston's (MIT) single before Brock Riley (Salem State) retired back-to-back batters to open his second consecutive relief appearance. Riley lasted 3.2 innings and allowed just two hits.
Frelick led off the bottom of the fifth with a single and scored on right fielder JP Knight's (Tufts) sacrifice fly four batters later. North Shore then scored three runs in the sixth and one more in the seventh to move within grand slam range.
In the sixth, first baseman Corey DiLoreto (Northeastern) was hit by a pitch and stole second and left fielder Jeff Mejia (UMass Lowell) walked, setting up Frelick's fourth homer of the season. The recent Lexington High grad has all four of the team's long balls and a team-leading 18 RBI in just 13 games this season.
Knight and Varinos posted back-to-back hits with one out in the sixth before center fielder George Sutherland (Cochise) drove in North Shore's seventh and final run on a fielder's choice grounder to third base.
North Shore pitching put up zeroes over the final four innings. Saugus native John Prentice (New England College) made his summer pitching debut in the ninth, stranding a leadoff runner at third base with two consecutive strikeouts.
George Goldstein (Middlebury) earned his first win of the season for Brockton after pitching the fifth inning. He relieved starter Alex Mendez (Saint Michael's) who allowed two runs on four hits and struck out five Navs over the first four frames. Sam Jacobsak (Northeastern) was credited with a three-inning save as he allowed one run on three hits.
The Navs hit the road for four of their next five games beginning at 6:30 p.m. Monday against the Pittsfield Suns. North Shore and Brockton return to Fraser Field for a 1 p.m. matinee Tuesday.