News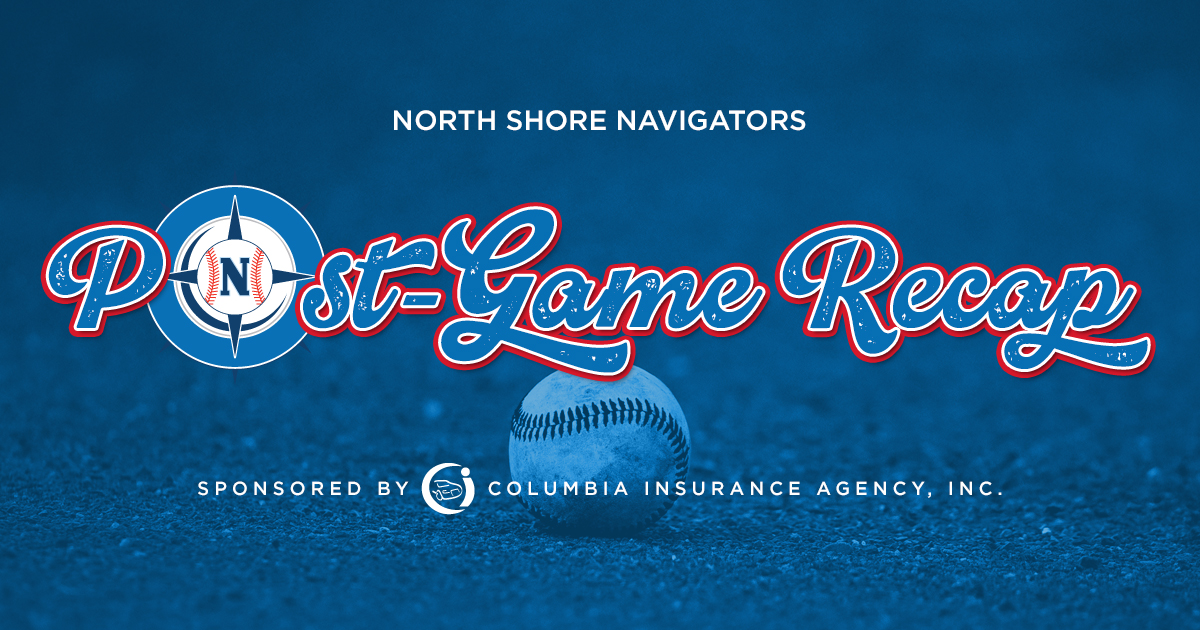 06/27/2018 9:10 PM
By Joshua Kummins
BROCKTON, Mass. -- The North Shore Navigators entered Wednesday night with two consecutive wins for the second time during this Futures Collegiate Baseball League season, but they could not make it three in a row as the Brockton Rox scored in five of their eight plate appearances en route to an 8-5 triumph at Campanelli Stadium.
North Shore fell to 8-16 on the summer with just its third loss in the last seven games, while Brockton snaps a three-game losing streak and moves to 13-11.
Center fielder George Sutherland (Cochise) went 1-for-4 with two RBI to lead the North Shore offense, while shortstop Sal Frelick (Boston College) scored twice and extended his hitting streak to 11 games with a one-out double in the fifth inning.
North Shore was on the positive side of a first-inning lead as Sutherland dropped a two-run single into left-center field after third baseman Elias Varinos (Tufts) hit a one-out single, Frelick walked, and both moved up on a wild pitch.
The lead was short-lived as Brockton sent 10 batters to the plate and scored four runs on just one hit in its half of the first. Navs starter Garret Keough (Holy Cross) walked four, hit a batter, and allowed a three-run triple to catcher Jack Kelly (Northwestern) in just two-thirds of an inning. Kelly paced the Rox offense with a 2-for-4 showing, one run scored, and four RBI.
Brockton extended its lead to three runs in the second as center fielder Charlie Maxwell (Northwestern) was hit by a pitch to open the inning, stole second base, and first baseman Vinnie Pallisco (UConn) drove a sacrifice fly to left field. In the fourth, Kelly drew a two-out, bases-loaded walk to force home a run.
The Navs scored twice in the fifth to cut their deficit to 6-4. After Frelick lined a one-out double to left and designated hitter Harrison Engstrom (Cochise) reached on an error, Sutherland reached on a second consecutive miscue that scored two runs.
The Rox responded with single runs in the fifth and seventh frames to conclude their scoring. Left fielder Kalen Puckett (Georgia State) drove the latter tally home with a single for his second hit in as many at-bats.
North Shore benefitted from two more of five total Rox errors in the ninth. Pinch hitter Jake Gustin (Bryant) reached on an error by Brockton shortstop Kyle Ruth (SNHU) and stole second before crossing the plate as Varinos grounded a fielder's choice to shortstop.
The Saint Joseph's College of Maine duo of Zach Begin and Matt Demma was strong for the final five innings out of North Shore's bullpen. Begin fanned five over four frames of two-run ball, while Demma finished the game with a scoreless frame that included a strikeout.
Catcher Dominic Keegan (Vanderbilt) recorded a single as a pinch hitter in the ninth inning. Varinos, Frelick, Sutherland, second baseman Joey Murphy (Saint Joseph's of Maine) and right fielder Drew Robertson (LIU Post) all recorded hits for North Shore.
For Brockton, Maxwell and third baseman Zach Gelof (Virginia) each scored twice, while Kelly and Puckett each recorded two of the team's seven hits. Evan Ferris (Monmouth) struck out six over four innings of starting work, George Goldstein (Middlebury) allowed two unearned runs on one hit in the fifth, and Brad Marchetti (Tufts) struck out nine Navs over four innings of one-hit ball to conclude the game and earn the win in his first appearance of the summer.
The Navs are scheduled to continue their three-game road trip at 7:05 p.m. tomorrow in Nashua, N.H., and 6 p.m. Saturday in Pittsfield, Mass. North Shore's next game at Fraser Field is slated for Sunday at 5 p.m. against the Rox.