News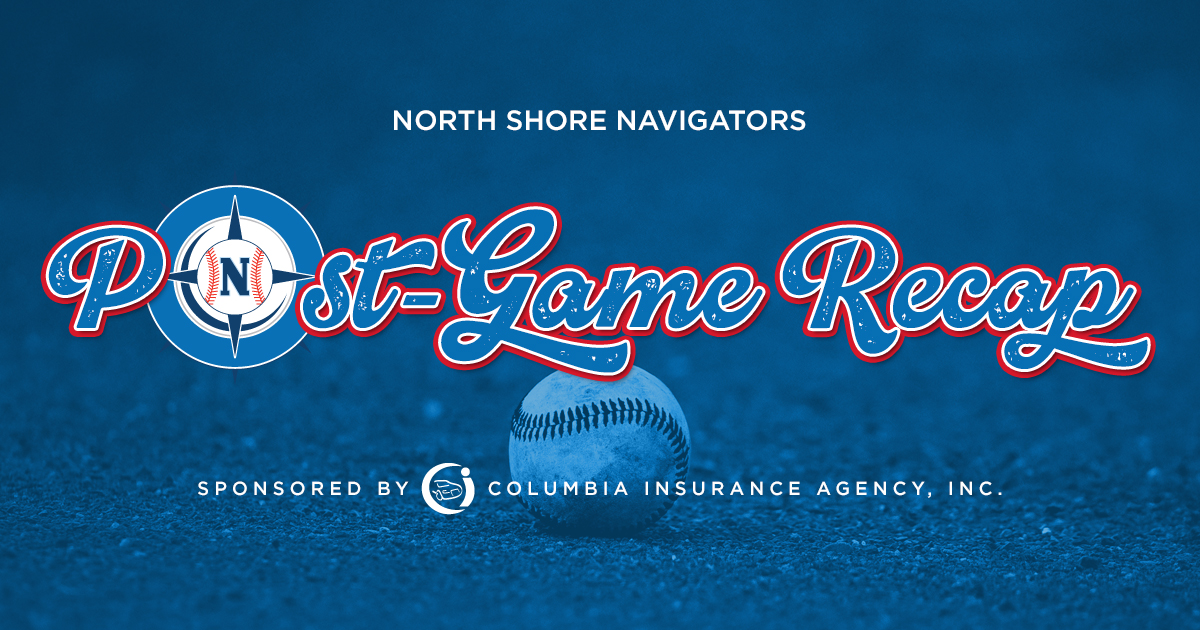 06/19/2018 7:56 PM
By Joshua Kummins
BROCKTON, Mass. -- The North Shore Navigators fell into an early hole and could never recover, allowing runs in five consecutive innings en route to a 9-2 loss to the Brockton Rox in Tuesday night's Futures Collegiate Baseball League action at Campanelli Stadium.
North Shore slipped to 4-13 on the summer with its fourth loss in five games, while third-place Brockton won its second consecutive game to move to 11-7.
Marblehead native catcher Harrison Engstrom (Cochise) registered his team-leading seventh multi-hit game of the season for North Shore, going 2-for-4 with an RBI. Danvers native shortstop Andrew Olszak (Southern Maine) also contributed two of the Navs' seven hits and drove in the other run.
Just one Navigator reached base against Brockton starter Nolan Collins (Bates) over the first four innings, allowing the Rox offense to plate five runs to build a lead that would never be relinquished. In the end, Collins allowed just one unearned run on three hits and struck out four through five innings to earn his first win of the summer.
Center fielder Joe Lomuscio (Brown) tripled and scored on third baseman Zach Gelof's (Virginia) RBI grounder to shortstop to put the Rox ahead just two batters into the game before right fielder Matt Johnston (MIT) socked a three-run home run into the North Shore bullpen to put the home team in command after the third inning.
Navs starter Dylan Gaita (Plymouth State) allowed two runs on four hits and two walks over the first three frames en route to being dealt his third loss in four decisions. The Melrose native struck out three batters in the ballgame, reaching that mark for the third time this summer.
Brockton added to its lead with a run on two hits in the fourth after Matt O'Connor (UMass Lowell) came out of the Navs bullpen. Second baseman Kalen Puckett (Georgia State) led off with a single, moved across the diamond on left fielder Jared Sharkey's (Wheaton) single to right, and scored on shortstop Jake Rosen's (Northeastern) sacrifice fly to center.
North Shore cracked the scoreboard with single runs in both the fifth and sixth innings, but the hosts would not be outpaced as they combined to score three times over those frames.
In the fifth, first baseman Corey DiLoreto (Northeastern) reached on a fielder's choice, stole second, and advanced to third on an errant throw, but his trot home with the first Navs run of the game was easy as Olszak sent a triple just inside the right field line in the next at-bat.
Rox reliever Chris McGrory (Harvard) issued back-to-back walks to left fielder Michael Wynne (Wofford) and second baseman Jake Gustin (Bryant) to begin the sixth, and Wynne scored North Shore's second run on Engstrom's single to left.
Brockton scored its fifth-inning run on catcher Jack Kelly's (Northwestern) bases-loaded walk before Gelof tripled to center and scored on a wild pitch in the sixth, and Sharkey drove in the game's final run with a rolling single through the left side in the seventh.
The Navs left the bases loaded in the sixth and two runners on base in the seventh against McGrory, who walked five but allowed just one run on four hits to register a four-inning save. Three Brockton hitters recorded two-hit games, with Gelof going 2-for-5 with two runs scored and two RBI. Johnston drove home three runs and scored another on a 1-for-5 night.
Devin O'Donovan (Austin Peay) pitched the sixth and seventh innings out of North Shore's bullpen before St. John's Prep grad Zach Begin (Saint Joseph's of Maine) struck out two in a perfect eighth.
The Navs return to Fraser Field to take on the league-leading Martha's Vineyard Sharks in the first of three consecutive home games tomorrow at 7 p.m.