News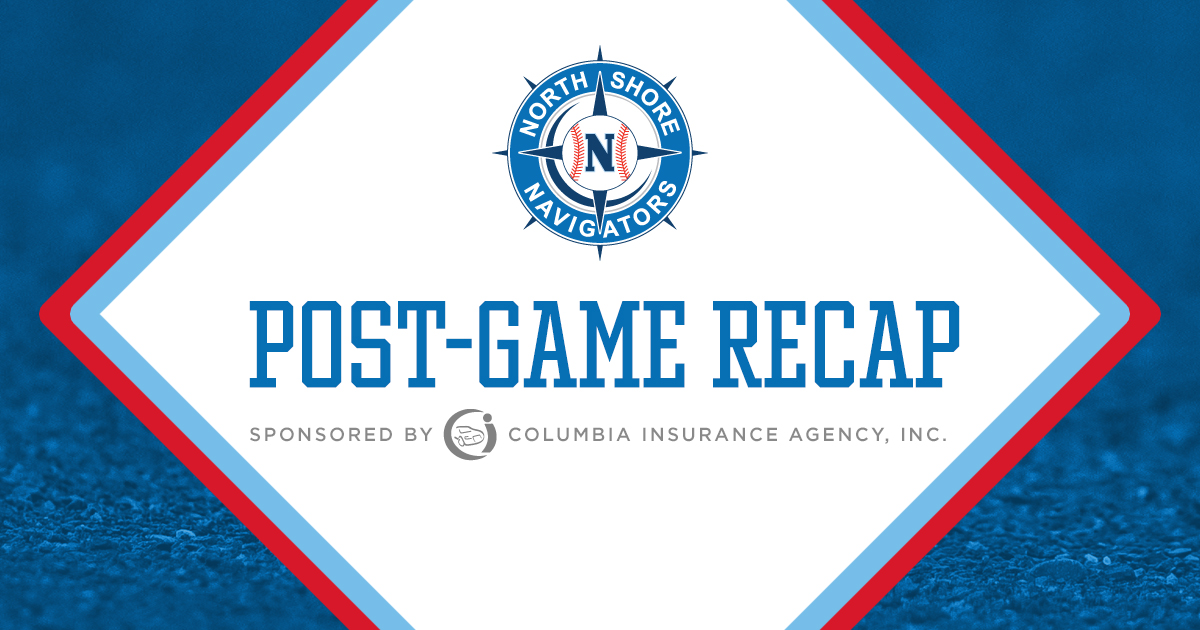 06/15/2018 8:09 PM
By Joshua Kummins
LYNN, Mass. -- The North Shore Navigators cracked the win column at Fraser Field for the first time in this summer's Futures Collegiate Baseball League action Friday night, scoring three times in the seventh inning en route to a 4-3 decision against the Nashua Silver Knights.
Catcher Harrison Engstrom (Cochise) and shortstop Sal Frelick (Boston College) posted the game-tying and eventual winning hits with two outs in the seventh. Marblehead native Garret Keough (Holy Cross) allowed just one run on two hits over the final three frames to preserve the Navs' fourth win of the season and third in the last six games.
North Shore stands at 4-11 on the season, while Nashua falls to 4-9.
Frelick, Engstrom, first baseman Corey DiLoreto (Northeastern), and designated hitter Joey Murphy (Saint Joseph's of Maine) all had two hits. Engstrom scored the game-winning run and drove in two more, while Frelick had two RBI and third baseman Elias Varinos (Tufts) scored twice while going 1-for-3.
Nashua starter Spencer Bergeron (UMass) struck out the first two batters he faced, but the Navs took a 1-0 lead thanks to some two-out offense in the first. After Varinos lined a single to center, Engstrom didn't waste much time driving a run-scoring double on the third pitch of his at-bat.
Lynnfield native and St. John's Prep grad Justin Foley (Bates) scattered just three hits over his first five innings of work as North Shore's starter before the visitors flipped the score in their favor with two runs against him in the sixth.
After Foley induced a fly ball to open the inning, left fielder Jeff Costello (Northeastern) lifted a towering home run over the left field wall to tie the score. Designated hitter Ryan Berardino (Bentley) extended the Nashua threat with a walk and scored all the way from first on catcher Nick Biddison's (Virginia Tech) go-ahead double to center.
The Silver Knights tacked on a third run after Keough replaced Foley in the seventh. Shortstop Bryce Reagan (Texas) drew a leadoff walk, advanced on pinch hitter Jared Brescia's (Assumption) sacrifice bunt and a wild pitch, and scored on third baseman Tom Blandini's (SNHU) line single to right.
North Shore immediately responded with a three-run inning to take the lead that Keough would make stand up. Left fielder Michael Wynne (Wofford) started the offensive rally with a one-out single before Varinos drew a walk, Engstrom lined a hard single to shortstop, and Frelick drove home the game-winning runs with a two-run knock up the middle.
Keough allowed just one baserunner over his final two innings, stranding Reagan on second base after a leadoff walk in the ninth.
Bergeron allowed a run on five hits in his four-inning start for the Silver Knights, while Dan Shaw (Clark) was charged with the loss after allowing three hits and three runs over 1.2 frames. Blandini, Costello, and Biddison all had multi-hit games for Nashua.
The Navs travel to Martha's Vineyard for the second time this season Saturday night, with first pitch against the league-leading Sharks set for 6:30 p.m. Next week, North Shore plays four of its five games at Fraser Field beginning Monday against Pittsfield.