News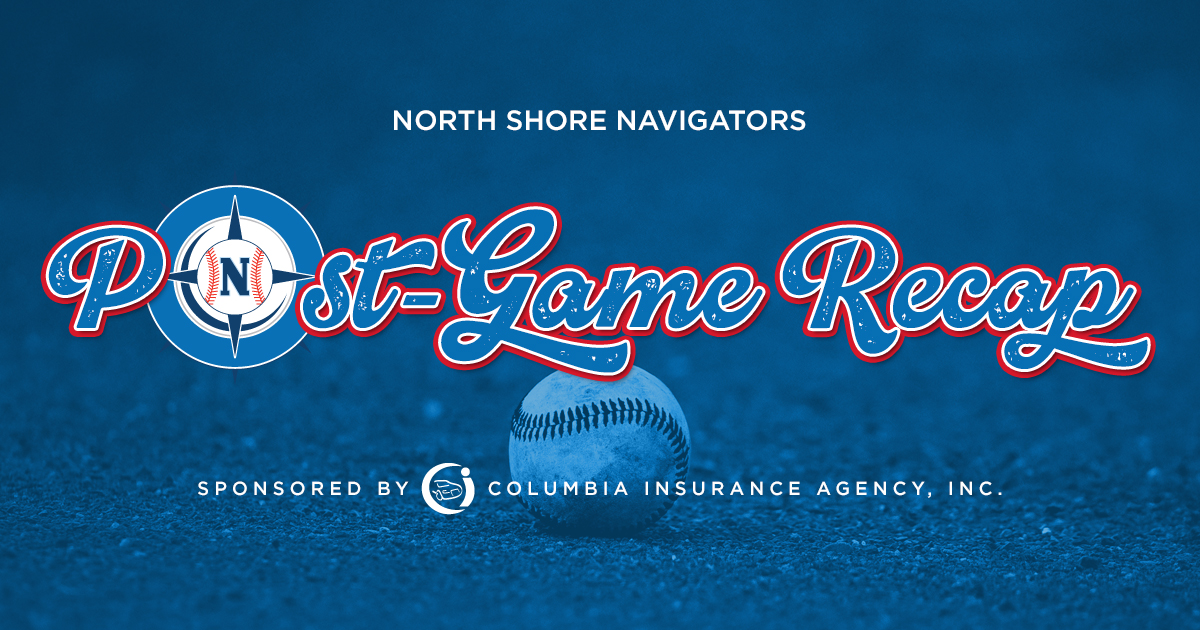 06/14/2018 8:33 PM
By Joshua Kummins
LYNN, Mass. -- The Brockton Rox posted crooked numbers in their last at-bats in both games of Thursday's Futures Collegiate Baseball League doubleheader, downing the North Shore Navigators by 8-4 and 6-4 scores at Fraser Field.
The Navs fell to 3-11 on the summer with the decisions, while Brockton improved to 9-5.
North Shore returns to its home confines for the second "Fireworks Friday" night of the season tomorrow against the Nashua Silver Knights. First pitch is set for 7 p.m.
Game 1: Brockton 8, North Shore 4
The Navigators held the lead with just three outs to go in the opener, but Brockton scored five times on three hits and an error against relievers Matt Demma (St. Joseph's of Maine) and Danny Ryan (Northeastern) in the seventh inning to break its two-game losing streak.
Demma pitched three scoreless frames before running into trouble and allowing two walks in three batters to open the seventh. Left fielder Matt Johnston (MIT) singled home the tying run upon Ryan's entry before a wild pitch, a passed ball, and an error allowed the Rox to take the lead and add insurance. Shortstop Kalen Puckett (Georgia State) concluded the nine-batter frame with an RBI single.
Brockton's late rally spoiled designated hitter George Sutherland's (Cochise) 2-for-3 effort with a run scored and an RBI to lead a Navigator offense that totaled just four hits. Demma was charged with the loss after allowing two runs on three hits and two walks over 3.1 innings of work in relief of his college teammate Zach Begin.
North Shore was unable to recover from the late deficit it fell into as Brennan Vasquez (Brown) struck out four batters over two perfect innings to earn his first win of the summer for the Rox.
The Rox drew first blood just two batters into the game as center fielder Connor Rowland (Palm Beach Atlantic) reached third on Navs catcher Harrison Engstrom's (Cochise) errant throw after a strikeout and right fielder Joe Lomuscio (Brown) singled him home.
Brockton starter Evan Ferris (Monmouth) struck out the Navs side in the bottom half of the first, but North Shore tied the game an inning later after first baseman Corey DiLoreto (Northeastern) walked, stole two bases, and scored on an error.
Brockton broke the 1-1 tie with two runs in the third, but the Navs matched it an inning later when left fielder Jeff Mejia (UMass Lowell) singled and center fielder Michael Wynne (Wofford) rolled an RBI grounder to second base.
After third baseman Elias Varinos (Tufts) led off the fifth inning and stole second, Sutherland drove him home on a single to center field to give the Navs a 4-3 lead.
Game 2: Brockton 6, North Shore 4 (8 innings)
Wynne went 3-for-5 with three RBI to lead the Navs in the nightcap, tying the score with a double to left field in the seventh inning before the visitors snagged the win on RBI hits by Gelof and left fielder Matt Ronai (Merrimack) in the eighth. Peabody native Jake Gustin (Bryant) went 2-for-3 and scored twice as the second baseman in his North Shore debut.
The Navs took the lead for the second time in three games against Brockton, plating three runs on two hits in the bottom of the second inning.
After shortstop Andrew Olszak's (Southern Maine) fielder's choice grounder to third, Gustin drew a walk in his first plate appearance of the season, and the Navs took a 1-0 lead on catcher John Prentice's (New England College) dribbling single past first base. Wynne extended North Shore's edge with a two-run double.
Brockton immediately cut into its deficit in the third with a run in the third as second baseman Buddy Mrowka (Harvard) singled and scored on an error after Rowland singled two batters later. The Rox tied the game two innings later as Johnston recorded an RBI grounder to third base and first baseman Richie Sobalvarro (Barry) singled home a run two batters later.
Gelof delivered an RBI single for the Rox in a two-hit sixth frame, helping his 4-for-5 line with two runs scored and two RBI. In the seventh, North Shore managed the tying run after Gustin led off with a single, Prentice walked, and Wynne dropped in the double, but Vasquez recorded two strikeouts with the bases loaded to send the game to an extra frame.
Navs reliever Dylan Gaita (Plymouth State) retired the first two batters of the eighth, but Gelof and Johnston drove back-to-back triples to center field to combine for a run. Gaita struck out four over three innings in the losing effort.